Volkswagen Alignment Services in Spartanburg, SC
Are you in need of getting alignment services done on your Volkswagen automobile? If this is the case, you're in the right spot. Vic Bailey Volkswagen of the greater Spartanburg, SC area has a team of qualified technicians who are ready and willing to conduct not only alignment services but a variety of other maintenance and repair tasks on your vehicle. 
---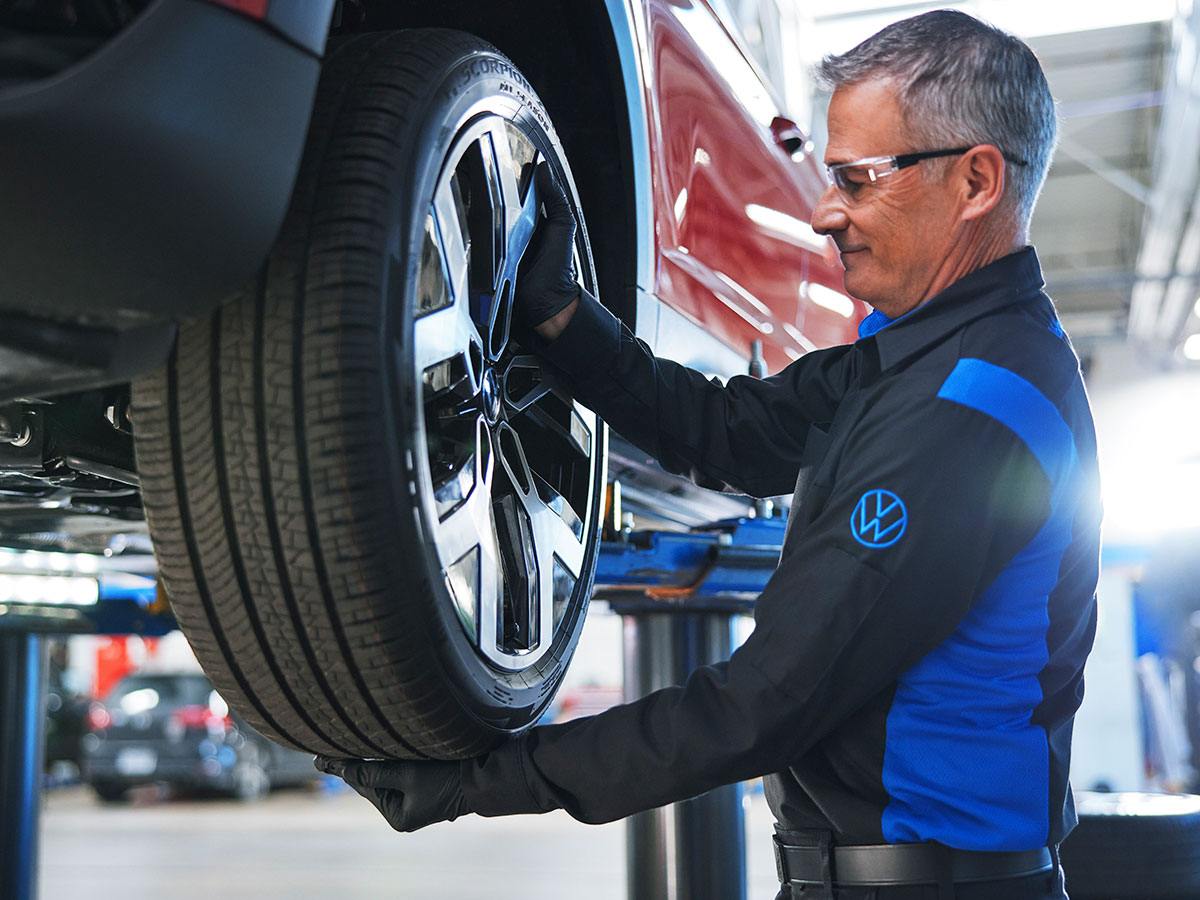 Wheel Alignment Is Crucial
You'll want to have your tires aligned on a regular basis. This improves the performance of your vehicle, among other things. You'll get more mileage out of it. If your vehicle is not four-wheel or all-wheel drive, you'll likely only get a front-end alignment that will straighten out the front-axle components. Or, the technician might do a thrust-angle alignment that straightens out the rear wheels of the car so they're parallel with the front-axle and perpendicular to the center of the car.
If you do have an all-wheel or front-wheel drive, your vehicle will receive a four-wheel alignment. This type of alignment is done only on those automobiles that have adjustable or independent rear suspensions. Both of the axles must be aligned properly so that the wheels will be aligned in a rectangular shape, perpendicular to the ground and parallel to each other.
Vic Bailey Volkswagen Alignment Services
---
How Improper Alignment Can Affect Your Vehicle
This may not seem like a big deal to you, but it's important to keep your tires aligned. You want the wheels and axles moving in the same direction and the mechanic will work on suspension angles that are known as the thrust, caster, toe, and camber to ensure optimal tire position and movement. He or she also will align the steering wheel so that it does not oversteer or understeer. Wheel alignment definitely can cause such issues.
How Often Should You Get Your Alignment Checked
Even if you haven't been experiencing any issues that indicate improper alignment, you'll want to bring your vehicle in about every 30,000 miles or so. You might choose a date/season to have routine maintenance done. Either way, you'd benefit from checking your Volkswagen owner's manual for a strict maintenance recommendation. During this maintenance, a certified Volkswagen technician at Vic Bailey Volkswagen can look over the alignment, using advanced methods and machines. We have factory-authorized parts on hand and can order any we don't currently have in stock.
  Schedule Service
Visit Vic Bailey Volkswagen for an Alignment
When it comes to alignment services and more, trust in Vic Bailey Volkswagen of Roebuck, Southern Shops, Lyman, and Boiling Springs, SC. We'll do our best to keep your automobile in the best possible condition for a long time.